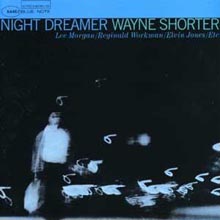 Det luktar lite rök i min kammare, ty jag stängde spjället något för tidigt för att kakelugnen skulle bli riktigt varm. Det är först när detta gjorts och glöden falnat som den verkliga hettan sprider sig i rummet. Jag brukar stänga spjället gradvis, för att på så sätt släppa ut minimalt med värme i skorstenen.
Det finns många läsvärda texter här i världen, och idag tänker jag slå ett slag för de välskrivna alster som publicerades på baksidan av skivomslagen förr i tiden. Särskilt gäller detta jazzalbum och dito klassiska.
Ovan ses det fina konvolutet till Wayne Shorters Night Dreamer (Blue Note 4173) som utgavs 1964 och var Shorters Blue Note-debut. Denna skiva är verkligen inget undantag och så här förklarar Shorter varför han döpt titelspåret till Night dreamer:
"The tune weaves from major into minor, but has mostly a minor feel. And the minor key always connotes evening or night time. That's the reason for the first part of the title. In addition, it's in 3/4; but the way Elvin Jones plays 3/4 gives it an almost floating feeling. Yet, although the beat does float, it also is set in a heavy groove. It's a paradox, in a way, like you'd have in a dream – something that's both light and heavy. Ant that explains half of the title"
Lyssna på Night dreamer på YouTube.