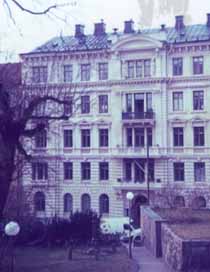 en av de bästa versionerna av Darn that dream är Mildred Baileys, den när hon sjunger med Benny Goodmans orkester någongång runt 1940. Chet Bakers är inte så dum den heller och man får på köpet en viss Underbara kvinnor vid vattnet-romantik, men ändå.
Darn that dream
And bless it too
Without that dream I never have you
But it haunts me and it won't come true
Oh, darn that dream
Lyssna på Mildred Baileys Darn that dream och lyssna på texten.
Bilden är tagen uppe vid Johannes, en av mina favoritplatser i Stockholm.
Jag har skrivit om Mildred Bailey tidigare och måste säga att jag gillar henne även om hennes röst kan låta lite väl naiv och flickaktig ibland. På youtube finns en hel del av hennes produktion tillgänglig. Lyssna! Jag är svag de inspelningar hon gjorde med Benny Goodman och för all del en stor del av 30-talsgrejerna. En verklig favorit är It´s so peaceful in the country (med Delta Rhythm Boys) som jag lagt upp tidigare här.
Mildred Bailey var inte precis smal och denna rondör menade hon hindrade henne från att nå de verkligt stora framgångarna. jag gissar att det inte var så enkelt. Hon var nog inte helt lätt att arbeta med. Enrolig detalj med hennes inspelningar är att hon ofta sjunger mer än bara refrängen, till skillnade från många av sina kollegor. Vill man ha en inspelning av någon komposition med så gott som samtliga verser, väljer man en av Baileys.