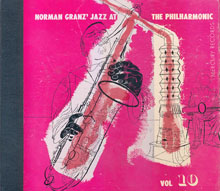 I november 1947 spelades volym 8-10 av Norman Granz JATP-serie in. Här har vi nummer 10 med Endido och I surrender dear. Omslaget är av David Stone Martin och mycket snyggt (klicka på bilden för större format). Jag är mycket svag för hans omslag från sent 40-tal och tidigt 50-tal.
Den första Jazz at the Philharmonic-konserten ägde rum 1944 på Philharmonic Auditorium i Los Angeles. Inspelningarna från denna konsert gavs så småningom ut som Jazz At The Philharmonic, Vol. 4 och 5. Varför den inte kom först i skivserien vet jag dock inte. Jag äger rätt många album i serien och tycker att de flest håller rätt hög klass. Inte minst är det mycket snygga.
Denna utgåva är påkostad, ty skivorna är pressade i vinyl och därför lite mindre brusiga. Mercury kallade sin vinyl Merc-O-Plastic (lustigt!). Lyssna på JATP vol 10:
Medverkar gör Illinois Jacquet, Flip Phillips, Bill Harris, Howard McGhee, Ray Brown, Hank Jones och Jo Jones.